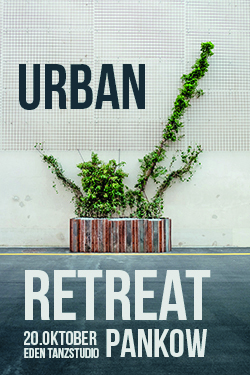 URBAN RETREAT
This is a quick way to regain power, connection and perspective. I have found a beautiful location called "EDEN". Eden is a dance studio in Pankow and is an extension of the famous doc11 Dance studio in Kastanienallee. The location gives you the feeling of being on Vacation, even if you are in Berlin.
We will start the day with a 2 hour Vinyasa and Meditation class before we move into the break with food. Eating together in groups is in itself a healing ritual and supports the group connecting. We can buy food at the Cafè, belonging to the "Eden" venue, or eat somewhere in the Kietz. After the break we enter the part of Psychotherapeutic Body work (Körperprozesse). This work aims to reveal the deeper topics and needs contained within your physical pains and tensions. Increasing your awareness surrounding these topics might lead to a deeper and lasting healing. This work will contain segments of guided Mediation, Dialogue and Sharing in small groups, movement experiments and touch. I will carefully lead the Prozess to create a safe space where this sharing can happen. Following the Körperprozesse part of the Retreat there will be a small break before we finish the day off with with an Ecstatic Dance Ritual- an hour of barefoot dancing.
The Urban Retreat is a deep experience that will stay with you for a long time, providing you with emotional and spiritual nourishment for the time ahead.